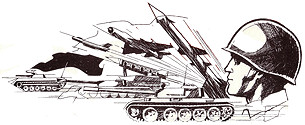 WELCOME,
on internet pages dedicated to Czechoslovak People's Army (CSLA) in 1954-1990. We would like to give everybody comprehensive survey about this army from the point of view of military. Please do not consider it as any kind of propagation.
You can find here general information about this army (rank badges, books, films, internet, museums etc.), weapons, vehicles, uniforms, equipment and military service. You can also find here brief information about armies of Warsaw Treaty.
This web is in Czech language and we do not intend to translate it into other languages, but in case of your interest we will do our best to give you proper information.
Also we would like to invite you on web of our Military Clubhttp://kvh.csla.cz. Reenactment group of ČSLA of sixties to eighties. We are looking for other military clubs on abroad dedicated to armies of Warsaw Treaty. You can contact us on e-mail kvh@csla.cz .
Thank you for your visit.
POLECAMY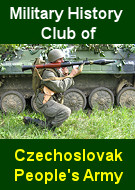 ---
Pokud si budete chtít přidat na své stránky naše bannery, můžete použít tyto: